7th AVE HOUSING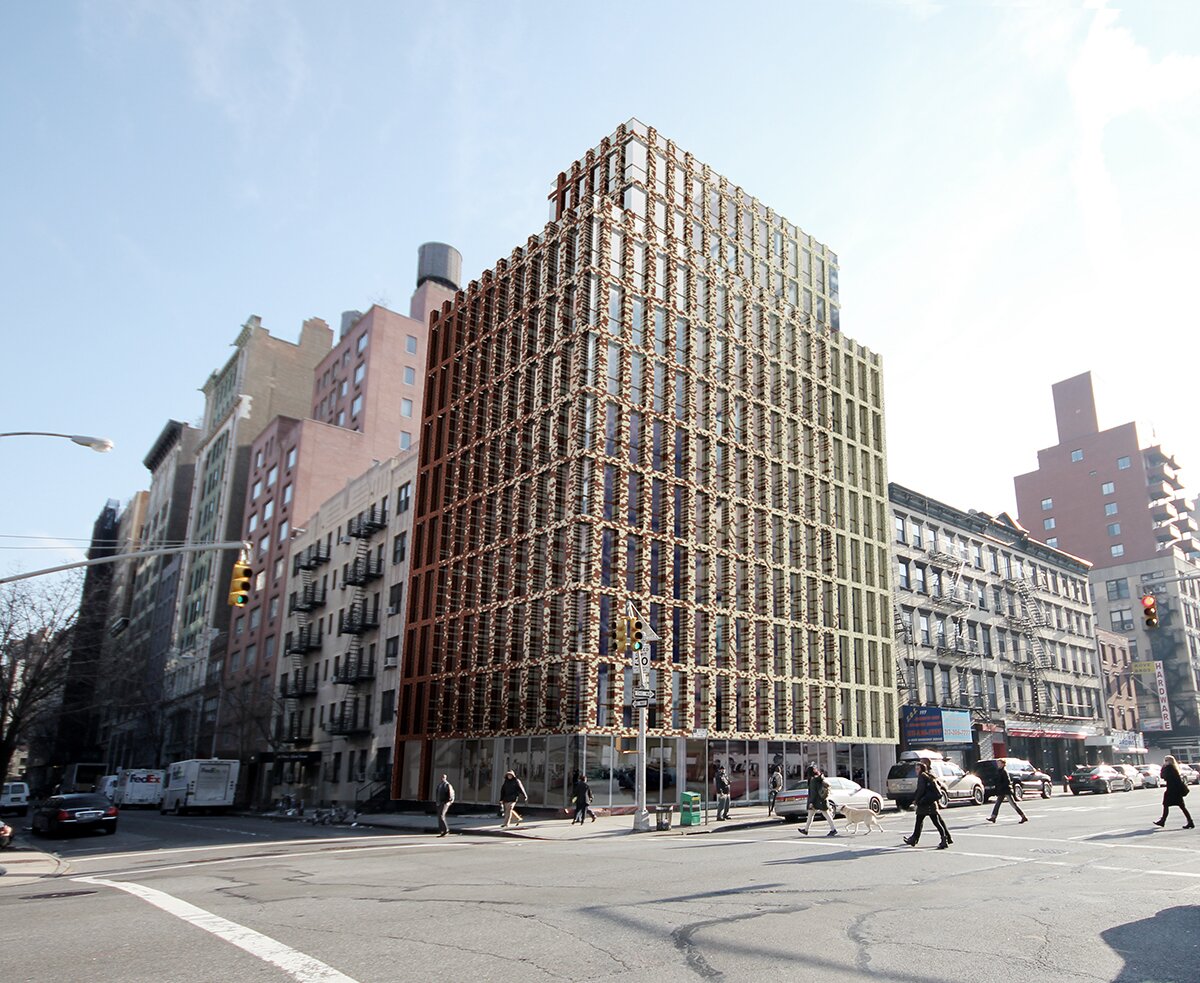 New York, NY. 2014. A proposal for Affordable Housing in Chelsea
Brick Cladding on concrete block/ plank structure

This project grew out of the work we have been doing with the Friends of the 20th Park which we undertook after discovering that park site had been earmarked for affordable housing as part of the Hudson Yards development proposal. Rather than push city officials into an uncomfortable choice – open space OR affordable housing – we expanded the scope of our study to examine alternate housing sites.
We uncovered a city owned property around the corner from the park site, which sits unoccupied and derelict. The study went on to develop a comprehensive development scenario in which would bring both open space and affordable housing to the neighborhood.
The project utilizes economic concrete plank and block construction, and is clad in brick and infill glazing. Its elevations are structured with a grid of vertically oriented units that offer units operable floor to height windows. It is proportioned to be a third typology of elevation: one that is more open than neighboring brick residential buildings, yet more solid than a commercial glazed curtain walls. The calibration of the window proportion shields the apartments from direct western exposure – effectively creating a brise-soleil system out of the project's core tectonics without relying on added-on shading elements.
The color of the bricks is modulated to fade from yellow in its south-west corner to deep red through an ombre pattern that wraps around the corner, playfully referencing the colors of neighboring buildings.

SITE/ ZONING / FEASIBILITY

We analyzed the site which is currently zoned as R 8-A with an FAR of 6.2. We studied the allowable area that can be built with the current zoning status and the benefits of Inclusionary Zoning bonuses. We further explored an alternative scenario that could be achievable through a ULURP.
The feasibility of the different scenarios was examined with test fits which incorporated detailed studies of unit mixes, apartment layouts, circulation and egress.
The site's R 8-A zoning allows an FAR of 6.2 and a max height of 120'. We proposed that with an FAR of 8.3, we would be able to build out to the maximum height, while observing required setbacks, and provide a maximum of potential units.