SFC BRIDGE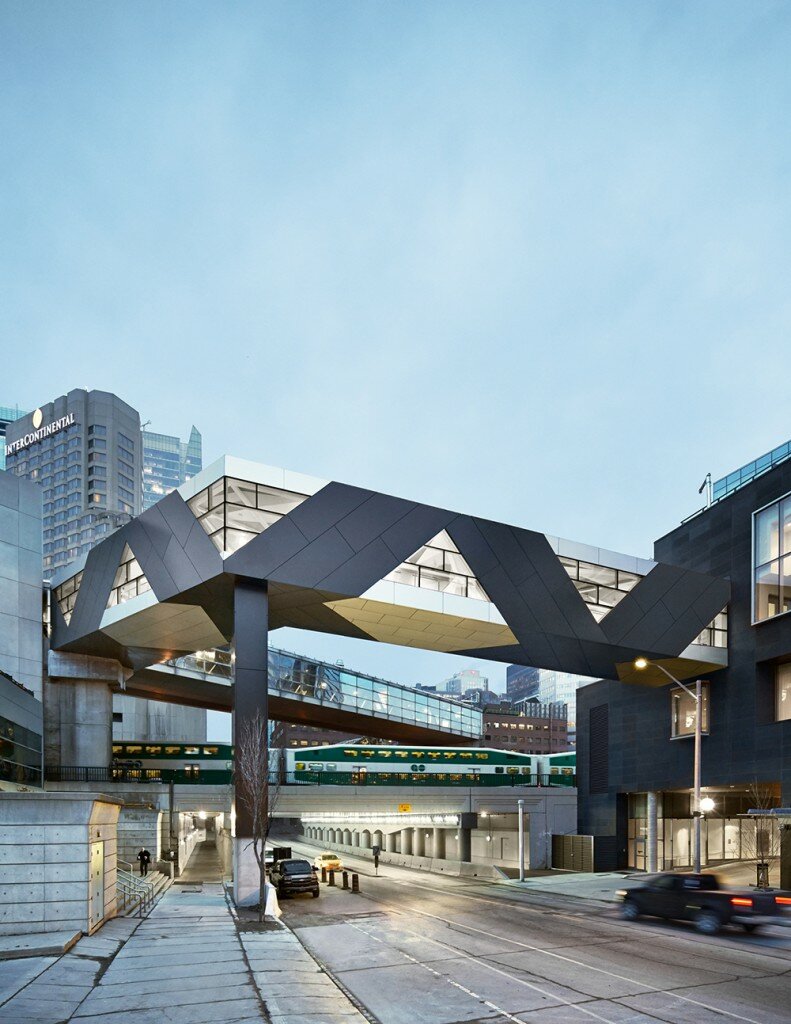 A public art and infrastructural collaboration with Marman and Borins
Toronto, ON 2015. Aluminum panels and curtain wall on steel structure, with painted mural interior.





The SFC Bridge demonstrates how creative collaborations can bring playful and unprecedented experiences to urban infrastructure. Officially completed in 2015, the project combines public art and architecture to transform an access point into a striking landmark.
As cities collaborate with private developments to install pedestrian-friendly access in areas that are dominated by industrial and transportation infrastructure, how to make human-scale access inviting, sustainable, and vibrant is a typical problem. We answered the challenge presented by the developers of Toronto's Southcore Financial Center with a design that energetic addition to the emerging district. The team won the commission through an international competition in 2012, and developed the project with architects of record Page + Steele / IBI Group Architects and structural engineers C2M Hill.
The SFC bridge is part of Toronto's underground PATH network, which recently expanded above ground to create year-round pedestrian walkways over and through elevated rail lines and expressways. Connecting the new Delta Hotel to the Metro Toronto Convention Centre, the bridge offers a unique pedestrian experience to the south edge of the financial district. Sloping upwards from the Delta Hotel, the bridge takes a 120-degree turn to connect with the existing Convention Center SkyWalk (built in 1989). Its distinctive, diagonal form echoes the older Skywalk, which takes a similar angled turn.

Dark aluminum panels wrap the bridge's exterior, following its structural trusses, to bind its integral slopes and bends. The kinetic, material interplay of wrapping and binding reflects the bridge's role in connecting disparate realms of the city. Between the bands, triangular windows cast graphic shapes of light and shadow on the bridge's interior. Stimulating the curiosity of passersby, they frame views of the urban backdrop, offering pedestrians a dynamic visual experience while crossing the bridge.
As a contemporary spin on dazzle camouflage, a digital mural treatment that extends across its walls and ceiling echoes the trapezoids, diagonals, and triangles in the bridge's structure to produce a kinetic, multi-perspectival experience.

The SFC Bridge provides an imaginative solution to pedestrian mobility by offering an experience of architecture as art to daily visitors in Toronto's Southcore Financial District. Supported by a partnership between the City of Toronto and the PATH Network, the SFC Bridge demonstrates the innovative and transformative potential of using everyday infrastructure to showcase cutting–edge art and design.