LESSONS LEARNED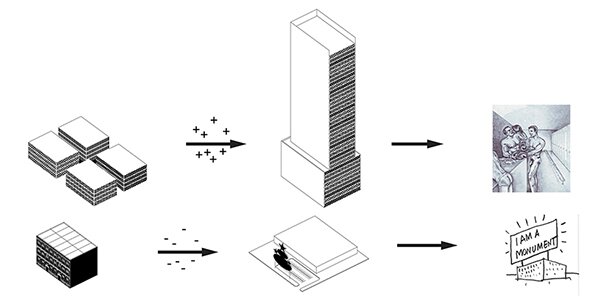 On the legacy of Learning from Las Vegas and Delirious New York in MAS Context 25-26: Legacy
As private enterprise has triumphed over public investment as the preferred means to urbanization, two books that sought to reorient architecture towards the liberal city should be scrutinized.
Learning from Las Vegas and Delirious New York are two books are about American cities, and they are two books about urbanism at specific moments in time: the 1960's and the 1920's. The former is a moment after the decline of Modernism , the latter, a moment just before its advent.
Beyond being about places and times, they are about forms: successful forms of architecture, pleasurable forms of architecture and popular forms of architecture.
Beyond being about places, times, and forms, these texts are about the market and the discipline of architecture. They study commercial architecture and the urbanism its produces. They are about the forms of architecture and cultural engagement that liberal development was able to generate and which the discipline was failing to produce.
Though their subject cities are both American, they are a study in contrasts. Both describe the architecture under intense pressure conditions: the positive pressure of early 20th century Manhattan produced a "culture of congestion;" while the negative pressure of the American suburb produced an "architecture of vast space and speed." The reversal in these pressure dynamics was brought about by radical changes in urban technologies between the 1920s and 60s.
Together, these two texts can be considered as the progenitors of "Learning From" as a method of addressing sites and drawing out architectural polemics. In contrast to Kevin Lynch's Image of the City or Ian McHarg's Design with Nature, which offered techniques to analyze sites in anticipation of design action, "Learning From" confronts sites to extract architectural polemics.