DAWES ROAD GROVE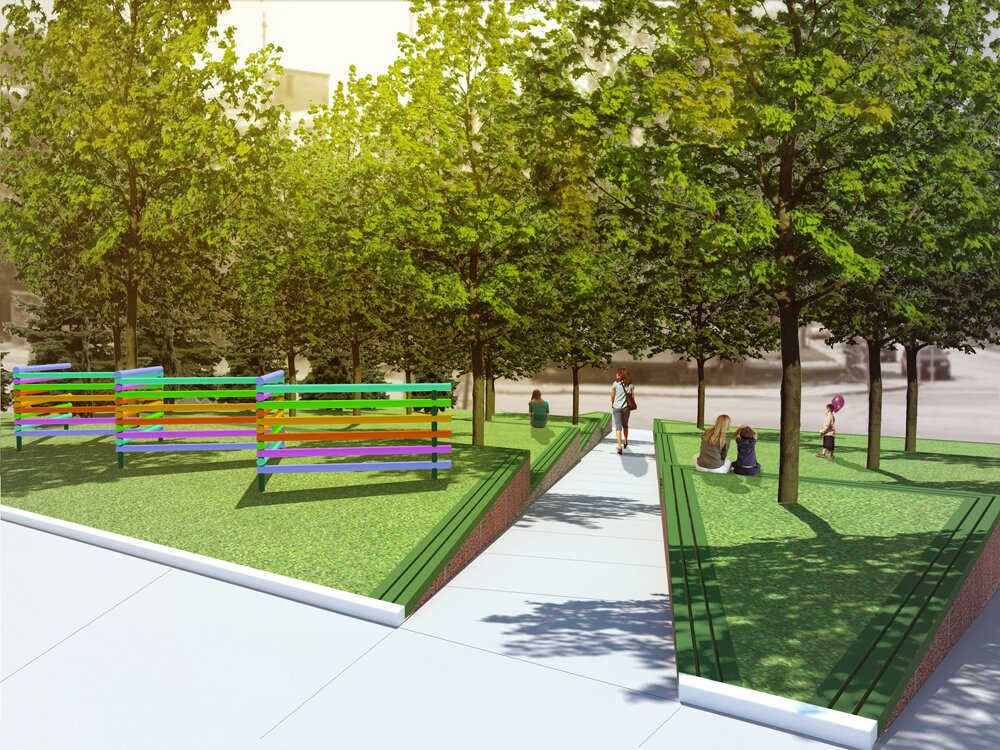 In collaboration with Jennifer Marman and Daniel Borins and Holbrook and Associates
Toronto, ON. 2011. Landscape and public art commission.
Maple trees, lawn, gabion retaining structures, composite decking, and powder coated steel tube fence.

This project combines public art, landscape and urban design to create a meaningful community space on a triangular site in east of Toronto. The site is currently loud, poorly defined spatially and unused. This proposal addresses the particular urban challenges of the site and creates an artistic narrative that draws on themes of movement and time. It does so through four material interventions:
A grove of trees creates volume, provides shade and brings structure to the site. They refer to the site's agricultural heritage, and create dynamic parallax effects when seen in motion. A "split rail fence" draws on agricultural memories, while delineating the site's edge and screening views of Victoria Park from Dawes Road. The fence's colored members and its geometry create optical effects when seen in motion. The site's sloping ground is structured into flat terraces by gabion retaining walls. At each level the gabions are filled with different material which reference a different epochs in the site's history. Finally diagonal paths connect key destinations on either side of the site, weaving the park into people's daily patterns of movement.

SCALE
The context is low-density and suburban. The actual foot print of the site is small in comparison to the perceived extents of the space it sits within. The first challenge was to find a scale for the proposal that would carry impact within this wide, ill-defined space. Tests revealed that some form of regularized tree planting would be the most effective means to do so.
GROVE & FENCE
The grove features a native maple species that is robust and that will animate the passage of time with its annual changes in color. Historic maps such as the one shown here illustrate how the contemporary urban grid filled in an older, less dense agricultural grid. This proposal incorporated a split rail fence that creates a spatial boundary at the edge of Victoria Park road, and at the same time alludes to a possible pastoral past of this site.
STRUCTURING THE GROUND
This triangular site is shaped by two roads of contrasting nature: Victoria Park, a busy urban thoroughfare, and Dawes Road, a more meandering residential street. Because of changes in level between these two streets, the site has a 6' fall across it width. Gabion retaining walls structure the ground into a series of flat terraces that are more inviting to use. The edges of the terraces are detailed to be benches, and the terrace geometry regulates the planting lines of the grove.
The gabions themselves are filled with different rock materials that narrate the geologic evolution of the site and its topography: granite from the Canadian Shield, river stones from nearby Tailor Massey Creek, and crushed brick from local brick works that allude to sites contemporary domestic nature.
A PLACE OF CROSSING
Observations revealed that this site is place that local residents cross as part of their daily activities. Many residents rely on public transit for mobility, and they can be seen carrying groceries from the bus stop to their homes. Informal paths worn into the grass reveal which short-cuts they are most likely to use. This proposal solidifies these paths into three ramps that cut across the site and terraces, inviting residents into the space as part of their daily routines.